REVIEWED BY Isa Jones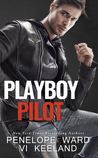 Playboy Pilot
by
Penelope Ward
My rating:
5 of 5 stars
"Half of the people in the world will tell you to follow your head, half will tell you to follow your heart. My advice, follow the one that isn't confused. The stronger one will eventually convince the other to fall in line."
― Penelope Ward, Playboy Pilot
Come fly with me.... I finished the book and was high in the clouds, it literally took me on a journey and it was an unforgettable one.
This book was romantic from the get go, Carter and Kendall meet by chance, in an airport bar, it all started with a question and then continued with a choice that lead to an adventure.
Kendall has a very important decision to make, so decides to escape reality and give herself time to think about her options and her next move, she was NOT expecting to meet Carter, who would completely throw her perfectly crafted plan out of the window and present her with a world of possibilities. The opportunity to perhaps grasp to that feeling of elation and that spark in the company of Carter doesn't go amiss and so Kendall takes a leap and embarks on a trip of self discovery and love.
Carter is a playboy, there is no way to sugarcoat the truth, his line of work has allowed him to have as many women as he wants without the need to commit to one. When he crosses paths with Kendall he cant understand the feelings she awakens in him, however there is more to the charming and sexy pilot and Carter must first let go of those ghosts from his past before can he truly embrace his future.
Carter and Kendall together make magic through the pages, Penelope and Vi are amazing at writing these sort of stories and they never seize to amaze me with their original material. It was funny, sad, it was romantic, passionate, and enlightening, I loved every minute of this book!
I was never a big fan of the Beatles (I Know please don't judge me), however after reading this book I have downloaded all their songs and it always puts a big smile on my face thinking about this story.
https://youtu.be/OIHEuYfDypg
5 FLYING STARS. Isalovebooks
View all my reviews