REVIEWED BY Micky Barnard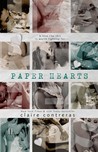 Paper Hearts
by
Claire Contreras
My rating:
5 of 5 stars
I can honestly say I just soaked this book up, immersing myself in the characters. The story was delightfully engaging, some angst but not overwelmingly so. The writing was inspired. The prose, the narrative, the description were magical. I cannot recommend this book enough. The story is dual pov, one as normal narrative, the other as a column in a magazine; it worked so well. Claire Contreras says it stands alone and it does but reading the free novella Torn Hearts is essential and you must go back and read Kaleidoscope Hearts at some point.
Mia is a photographer, talented enough to earn her living that way. She's tainted in life and relationships by her first love ending in betrayal. Jenson is an author and Times columnist who lives in the hope that one day he'll earn back the trust of his first love. These two. These two were the most likable characters you could imagine, faults and all. Jenson was hopeful; I loved that about him but at the same time, he was realistic about his past behaviours and their impact on others.
"This time you have all the choices. You have all the moves."
"I want it all. And I'm not going to let her talk me into anything less."
I might just be in love with Jenson myself but I want him to have Mia more. I feel full and satisfied after this book and lethargic about anything taking my mind away from this favourite read of 2015.
A copy of this book was provided by the author in return for an honest review.
Reviewed for Jo&IsaLoveBooks Blog.
View all my reviews
https://www.amazon.com/review/RBL5BY7JBZUFW/ref=cm_cr_rdp_perm