REVIEWED BY Isa Jones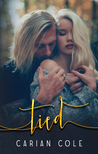 Tied
by
Carian Cole
My rating:
5 of 5 stars
Carian Cole I SALUTE YOU!!!
(Some Spoilers?)
I was completely transfixed with the story and transported into my own happy place.
The story of Holly and Tyler is one I will never forget and one that will always bring me hope on my darkest of days.
I know kids go missing every day everywhere and lately we have been bombarded by different stories of kids disappearing without a trace. However we have also seen stories of kids that have been missing and later found. It was like fate I had seen a program not long ago about a girl in America who vanished and later reappeared after being abducted for over fifteen years. Through the program we never saw the child (well now an adult) and truly grasp what could have been to have been away from her family, friends and everything that she knew before being taken. Well Carian has done that. She has gone into the mind of a girl who has gone through that ordeal and has built a story around that scenario.
Just when Holly was about to give up on hope, the unthinkable happens and she is rescued. For someone who was taken as a child her way of thinking is still in some ways that of a kid. The realisation of being freed from the monster who has abused her mentally and physically, brings a moment of elation and fear. Her prince has at last come to save her but her ordeal is far from over. Going back to her old life is unfitting and terrifying and she can only think of the man with the beautiful eyes.
Tyler has been a recluse for most of his life. After a horrific accident that stole him from all that mattered to him, he went from destructive to disengaged. He has done so many bad things, has made so many bad decision which have forced him to live far away from civilisation. The day he finds the girl in the woods everything changes. But it seems fate has intervened yet again and their paths have set to cross for a reason. His once simple life has become a complication. He doesn't want to feel. He is underserving of good...of love.
Oh how I enjoyed this book. I fell in love with Carian's writing after reading Torn and I was expecting the same sort of story on this second book in the series. However I was pleasantly surprised and was completely shocked as I was not expecting to read this. My heart was breaking at times and I fell in love with both characters immediately. They have both suffered in their own way, their hearts are broken, but together they fight to get their happily ever after and to write their own magical fairytale.
5 MAGICAL STARS. Joandisalovebooks
View all my reviews