REVIEWED BY Kari Cox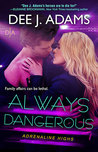 Always Dangerous
by
Dee J. Adams
My rating:
4 of 5 stars
I was gifted a copy of this book in exchange for an honest review.
Kim is an independent, successful woman. I liked that she didn't need a hero to fix everything for her. Leo is down on his luck, but he's determined to work hard for what he wants. I liked that attribute in his character as well.
I have not read the rest of this series, but after reading this one, I intend to do so. I enjoyed the story and I enjoyed the writing style. I liked having the point of view from Kim, Leo, and Wilson. Sometimes it's nice to not have to make assumptions as to what the characters are thinking.
I recommend this book!
Reviewed for Jo&IsaLoveBooks Blog
View all my reviews
AMAZON UK
https://www.amazon.co.uk/review/R2NADITA40RRID/ref=pe_1572281_66412651_cm_rv_eml_rv0_rv
AMAZON
https://www.amazon.com/review/RCHVJYNYRI37I/ref=pe_1098610_137716200_cm_rv_eml_rv0_rv