REVIEWED BY Micky Barnard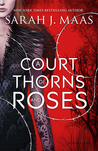 A Court of Thorns and Roses
by
Sarah J. Maas
My rating:
5 of 5 stars
A read outside of my norm that was everything it was promised to be by those who recommended it. This is the first book I've read by Sarah J. Maas and I have to say, that it is exquisitely written.
The premise for the book is a beauty and the beast tale. Feyre is a young woman, from a family that once had wealth and position but brought to poverty and near starvation by bad debts. The setting is fantastical, with humans and fairies living in the same lands with a wall separating their kinds. Feyre has become the hunter in her family, keeping them just about fed. It is a stark life with no pleasure. One day she kills a wolf who was one of the fairie. She knew this, but still went ahead. Now Tamlin has arrived from the land of the High Fairie to pursue revenge with her life lived in his lands. This is a twisty, completely absorbing tale. The creatures are light and dark, scary and warm and the relationships are so compelling. The culmination of this tale is utterly unpredictable and it is left wide open for the next book. I cannot wait to read more.
Reviewed for Jo&IsaLoveBooks Blog.
View all my reviews
https://www.amazon.com/review/R2ZFBLBXRGO705/ref=cm_cr_rdp_perm