REVIEWED By Monique Cashmere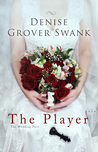 The Player
by
Denise Grover Swank
My rating:
5 of 5 stars
Denise brings the girls back together in this second book in the Wedding Pact series. This one is Blair's wedding. We also get a peek as to what Megs and Josh have been up to, as well as Libby.
Practical, pragmatic, sensible Blair wanted a heart-stopping, butterflies-in-her-stomach kind of love. Was she going to find it with Dr Neil Fredrick? These are the things Blair was contemplating whilst stranded on her way home to finalize her wedding, when in walks Garrett Lowery, her ex.
Garrett Lowery was her boyfriend back in college 5 years ago. After a heated argument, Garrett storms home to cool off. Blair waits until the morning to go over and sort out their problem when she is greeted at the door by a strange woman only wearing her underwear. No second chances is Blair's middle name, and even though Garrett pleaded to let him explain, that ended their relationship.
Not seeing each other in 5 years, they have now met twice in a 24 hour period. Garrett thinks it is kismet - a sign of pursuing Blair and working out their differences. But she has other ideas, and the major one being her wedding. He also has to sort out a family feud between his mother and Aunt, at his Nana Ruby's insistence. Garrett only has a few days to convince Blair that she is not meant to marry his boring cousin, but instead she is meant be marry him.
Denise brings plenty of humor into this tale, and one of course that has you laughing is Megan's Gram, who makes an appearance at the Kitchen Tea hosted by Knickers. Grams loves a good party, so she was happy to join in on the one in the pool! Another scene that had me giggling was when Neil's mother is faking to joke, and her husband asks "does anyone know the Heil Hilter?" To which Garrett replies, "it's the Heimlich, Uncle Gene,".
I thoroughly enjoyed this book and would recommend it whole heartedly. It can be read as a stand alone, but you would be missing out on the other girls weddings, which would be tragic in my opinion.
I was luck enough to be chosen to receive an ARC for an honest review.
Reviewed for Jo&IsaLoveBooks Blog.
View all my reviews