REVIEWED BY Melinda Lazar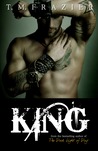 King
by
T.M. Frazier
My rating:
5 of 5 stars
King by TM Frazier
There was such a long wait for this book and I really worried that I had built high expectations and would be feeling let down. Well, let me just say, that this book was absolutely amazing and well worth that long wait! The plot, the characters, the twists were all perfection and I just could not put it down till the last page.
King and Doe are such an amazing couple and really interesting to get to know. King is sexy, confident and takes no prisoners. Doe doesn't who she is or where she came from that. She just knows that she's desperate and is reduced to extreme measures. The are awesome characters and I loved them both! Further to that, it's not often that secondary characters also take a place in your heart and in the instance of Preppy and Bear, they sure did.
I really don't want to give away any of the story because there's no way I can possibly do it justice. But I will say that this book had me feeling so many emotions throughout. I was laughing one minute, gasping in shock the next and then crying a few minutes later and all of this amounted to an outstanding five star read. I simply could not get enough of King and Doe and the others and as far am im concerned, August can't come quick enough for me to get my hands on part two!
**arc received in exchange for honest review.
Reviewed for Jo&IsaLoveBooks Blog
View all my reviews