REVIEWED by Ann Meemken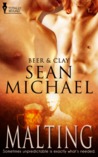 Beer & Clay #1
Malting
by
Sean Michael
My rating:
3 of 5 stars
Damon is a bar owner that has the hots for Toby the thursday night regular. Toby has come into his bar every thursday for the last 3 years, he order 2 beers and he is on his way. Damon wants to get to know him so he goes over to his table and strikes up a conversation with him. Damon and Toby are exact opposites but they always say opposites attract. Damon wants to show Toby how to mix it up a bit, and that life is exciting.
This is the first book of the series and gives you the background of the characters. It has a ton of hot sex scenes.
View all my reviews
also on amazon
Beer & Clay #2
Milling
by
Sean Michael
My rating:
3 of 5 stars
In book #2 is how Damon and Toby continue there relationship. They are trying to find that balance between work and being together. This also had a ton of hot sex scenes which are described very well. I would like to see a bit more storyline between them. I do hope that will be coming in book #3.
View all my reviews