REVIEWED BY Becky Cox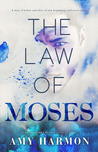 The Law of Moses
by
Amy Harmon
My rating:
5 of 5 stars
Reviewed for Jo&IsaLovesBooks Blog
Completely and utterly blindsided by The Law of Moses. I don't know what I expected but it wasn't this and it was amazing. Ms. Harmon has once again yanked on my heart strings and left me thoughts that I will have to revisit for awhile.
Reading from both POV's is a great insight into the characters and bound me to them even more.
Moses is such an amazing character. The shit storm he was handed as an infant and small child is heartbreaking. How he matured and dealt with his issues is amazing.
Georgia a small town girl with wonderful parents and a stable home life. What could she and Moses have in common? She loves Moses wildness and her loves her calmness. A love story like I have never read interwoven with a mystery that keeps you turning pages.
Loved this book!
View all my reviews
amazon us
amazon uk