REVIEWED BY Micky Barnard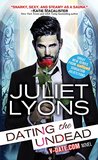 Dating the Undead
by
Juliet Lyons
My rating:
3 of 5 stars
3.5 stars
DATING THE UNDEAD was a different kind of vampire read than I'm normally used to. It had a real undertone of fun and snark in which I found engaging. I would have liked a little more building of this particular vampire world to really understand the context as the reality of vampires in the human world was a new concept for society.
Silver was the kind of heroine that needs to grow on you. Her character wasn't instantaneously likeable but she did have depth to her character and was multi - dimensional. Logan intrigued me and I loved getting under his skin step - by - step. For me, Logan was the glue in this story. The underworld of vampire - human relations was interesting.
The connection between Logan and Silver just lacked something and I can't quite put my finger on it but I held back from fully investing in these two.
I did enjoy this book, I just wanted a little more in a few ways.
A copy of this book was provided by the publisher through netgalley in return for a honest review.
Reviewed for Joandisalovebooks blog.
View all my reviews