REVIEWED BY Tina Shobe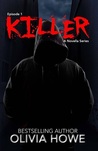 Killer
by
Olivia Howe
My rating:
5 of 5 stars
Killer is Episode 1 of the Killer Novella Series.
Detective Gwen Anderson along with her partner Detective Sullivan are investigating the case of the serial killer 'The Doctor'.
Gwen is attempting to solve this case before the FBI take it over. She is on a six month deadline.
The Doc begins to play cat and mouse with her.
I was pulled into this book from the beginning and felt I was trying to figure it out along with the detectives.
Warning....cliffhanger... I can't wait for #2!
This is the first book I have read of Olivia Howe's and she's gained a new follower. I will definitely be reading more!
View all my reviews
Amazon:
http://www.amazon.com/gp/customer-reviews/RFM9EPTSDIBBR/ref=cm_cr_pr_rvw_ttl?ie=UTF8&ASIN=B012VI9YCI
Barnes and noble
http://www.barnesandnoble.com/reviews/killer-olivia-howe/1122432648?ean=9781515198161#reviews-header