REVIEWED By Becky Cox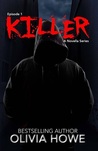 Killer
by
Olivia Howe
My rating:
5 of 5 stars
Killer is an exciting thriller/mystery novella that was fast paced and kept me on the edge of my seat. There is a cliffy and I can't wait to read the next installment.
Gwen is a detective that, along with her partner, is trying to catch the serial killer, The Doctor. She is taking risk in her attempt to do so that may cost her, her career.
The Doc is clever and painstakingly careful to not get caught. He dangles himself just outside of her reach and is taunting her.
Olivia Howe has done an excellent job in this novella and while it is short is didn't feel rushed. She develops the story and the characters wonderfully.
I received a copy for an honest review.
Reviewed for Jo&IsaLoveBooks
http://joandisalovebooks.com/
http://joandisalovebooks.blogspot.co.uk/
View all my reviews