REVIEWED BY Becky Cox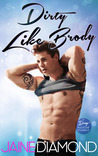 Dirty Like Brody
by
Jaine Diamond
My rating:
5 of 5 stars
I have fallen in love with the Dirty series characters. Jessa and Brody's story was sooooo good.
Jessa has her secrets about why she left and those you will have to read and have her tell you herself. She is fighting her feelings for Brody and staying away was the easiest method but she has to come home for her brother's wedding.
"If you don't know me know," I told him, trying to keep my voice from wavering, "you never did."
Brody, manages Jessa's brothers band. He feels Jessa abandoned him six and half years ago and he is angry. Brooding angry bad boy with tattoos. Hello Mr. Hotness. He is so very angry. We all know how fine the line is between love and hate.
I really wanted to shake the both of them and lock them in a room until they figured this out.
A second chance romance with lots of angst. A great read and I look forward to the next book in this series.
"All I can do is stand here in front of you right now and ask you so see me, me, and not that girl who ran away!


I was gifted a copy for an honest review.

Reviewed by Becky for JoandIsaLoveBooks
View all my reviews
Amazon US
Amazon UK