REVIEWED BY Becky Cox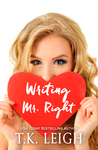 Writing Mr. Right
by
T.K. Leigh
My rating:
5 of 5 stars
I needed Mr. Right, or I need a Mr. Right. Either way the book was so very entertaining. Molly is independent. She is funny, blunt and made me laugh throughout the book. She mortifies her brother Drew on a daily basis. I love the closeness of their brother sister relationship.
Molly is a romance author that writes under a pen name to protect the innocent or just because she doesn' want anyone tAo know she writes naughty romance novels. She is having a bit of a writers' block and needs some inspiration.
Dr. Noah McAllister is the treating physician for Molly's dad who suffers from alheizmers. He is pretty perfect. Hence my needing a Mr. Right. I also needed a well written clever story. I have struggled recently to find something to peak my interest and truly enjoy and T.K. Leigh helped me out and wrote me an awesome romcom. I mean, I am sure she wrote it for me and just shared it with the rest of you.
Highly recommend this one, and wondering if I can hang out with Molly sometime. I think we would have a laugh or two.
I was gifted a copy for an honest review.
Reviewed by Becky for JoandIsaLoveBooks
View all my reviews
Amazon US
Amazon UK