REVIEWED BY Monique Cashmere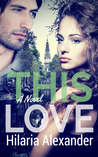 This Love
by
Hilaria Alexander
My rating:
4 of 5 stars
I haven't had the pleasure of reading one of Hilaria's books before and what a loss for me. This book tells a sweet story of a New Yorker (Ella) escaping to Amsterdam and meeting a musician from Nashville (Lou). They have more in common than they know. He is in Amsterdam briefly before heading to Florence to record his next album, but he postpones the session to spend more time with Ella.
After escaping a very dictatorship parenting life style, Ella has time now to explore and find herself. She wants to do things her own way and on her own time. She and Lou start a friendship that could become a beautiful relationship, but Ella is too scared of being hurt and all the heartache that comes with it. But that is what a great romance is about no? And where else to fall in love than Florence! But can it last? Heartache is a bitch, but the best thing to come out of it for Ella is writing songs.
The way Hilaria brings these two characters to life is a pleasure to read. The journey takes us through some amazing cities that I would love to visit especially by the way Hilaria describes them. And every girl wishes for a man like Lou Rivers to spoil her. If you are wanting a story with some funny lines, romance, angst and tears, look no further than "This Love".
View all my reviews