REVIEWED BY Tina Shobe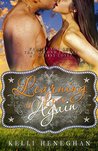 Learning to Love Again
by
Kelli Heneghan
My rating:
5 of 5 stars
I really enjoyed this book. I was pulled into the story as soon as I started reading it.
Nicole got into a bad car accident and her family moved her back home to stay with her cousin, Mitch, and his wife/her friend Carly,who live on the family ranch. Due to a tragedy to Nicole's parents she grew up living on the family ranch. Raised by her Aunt and Uncle, along with her cousin, Mitch and her best friend, Jack, whom they also took in.
Nicole ran from her past by moving out of the area and staying away for the past 10 years. When she ran she also left behind Jason, a man she fell in love with during college. She was unable to handle 'love' due to the scars from the treatment of her Mom in her younger years.
Jason came back into her life by being her attending physician when she moved home. They decide to take another chance at love. They have some ups and down getting there due to overcoming things in their pasts.
I love how all the characters interact with each other. Not only do we get to know Jason and Nicole we also get to know Mitch, Carly and Jack. I really hope there's a book about Jack in the future.
Great book!
View all my reviews
Amazon-
Barnes and Noble-