REVIEWED BY Melinda Lazar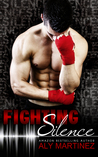 Fighting Silence
by
Aly Martinez
My rating:
5 of 5 stars
Fighting Silence by Aly Martinez
I've been wanting to read this book for so long and finally got to it just before book two in the series comes out. This book was really so, so good and I experienced so many emotions while reading. It had many beautiful but sad moments that were perfectly balanced with many smiles. The characters captivated me from the beginning and that goes for the secondary characters too. Till was such an amazing man that I really wanted to give a good smack to once or twice but at the same time, I knew where he was coming from and why he was acting the way he was and making the decisions that he made. I loved Eliza. She was just perfect for Till. She was everything he needed her to be (without knowing what he needed!) while being so true to herself. A brilliant, strong character.
I loved my introduction to Aly Martinez's writing and I can't wait to read the next book in this series because I am in LOVE with the Page family! I definitely recommend this book with 5 stars.
Reviewed by Melinda from Jo&IsaLoveBooks Blog
View all my reviews