YREVIEWED BY Emma White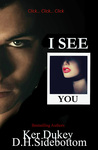 I See You
by
Ker Dukey
My rating:
5 of 5 stars
Well this is going to be a short review with very little detail about the story.
Nina lives a normal life till an event changes her life forever.
Will she survive or will it destroy her life completely.
Devon A young guy trying to get a normal life back away from his brothers twisted life style, Will he get his happy ever after......
It's amazing and needs to be read!
I love Ker and Dawn when they team up together, They smash my world every time.
Reviewed for Jo&Isalovesbooksblog
View all my reviews
http://www.amazon.com/review/R2W4UDH4B5R0GT
https://www.amazon.co.uk/review/R3NHSV4FA9F0TM/ref=pe_1572281_66412651_cm_rv_eml_rv0_rv